Counseling Services
Inaazakonenjige  (s/he goes to a certain place with light, shines a light to a certain place)
Every woman (Ikwe) has a story to tell. Ninoshenh provides a space to tell that story, and have someone walk with you throughout the story. 
Our stories bring to light our truth (debwewin), which is a sacred connection to who we are at our core being. Who we were when our spirit first made its journey into this world.  We look at in what ways we have connected to our truth and in what ways have we disconnected.  
This space is for Ikwe's (women) to decide what they want to explore and what connections they want to focus on.  Connection to self is walking in our own sacred stories. Here are some specializations that are available to each client should they choose. 
Nimaamaa Aadizooke
(Mama tells a sacred story)
Counseling for Nimaamaa (Mama's): Acknowledging the lack of village that surrounds all mothers, and often are parenting without much needed support.  In our experiences as new parents, we are often called to process our own wounds that surface unexpectedly.  There are wounds we carry that we often aren't aware are there, until we care-give for children. And the children require much of our emotional support.
Ninoshenh Aadizooke
(Auntie tells a sacred story)
Counseling for Ninoshenh (Auntie's): Acknowledging the role Aunties have in the village.  This may be connected to caregiving for children or not, but here, we explore the lack of a village for women navigating bimaadiziwin (life).
We explore the connections and disconnections with Community, Tribe, Village including Community care and nourishment.
The medicine wheel teaches us how to have balance. Trauma teaches us how to disconnect from that balance to survive. With practice we can restore those connections. We are Mashkiki (medicine).
"All that we are is our story. From the moment we are born to the time we continue on our spirit journey, we are involved in the creation of the story of our time here. It is what we arrive with. It is all we leave behind… 
What comes to matter then is the creation of the best possible story we can while we're here; you, me, us, together. When we can do that and we take the time to share those stories with each other, we get bigger inside, we see each other, we recognize our kinship – we change the world, one story at a time…"
– Richard Wagamese
How we can help
My intention is through the development of a strong therapeutic relationship Ikwe's (women) will connect with their debwewin (truth) to explore the many challenges life may bring their way.
Ninoshenh Counseling offers counseling support. We also offer clients a choice to bundle our counseling support with other supports. These supports can be your pre-existing support or we can also offer some support we regularly work with. 
The bundling of support is completely voluntary and at the discretion and lead of the client.  Bundled support can come together, and will include joint appointments with the client to review the services they are receiving, as an additional way of wrapping our village around the client. 
The following are a few programs that may fully or partially cover your counseling session fees: Ninoshenh Fund, Crime Victim Assistance Program, Employee Benefits Programs, Metis Nation BC, Band Funding
Contact us for a free consultation to discuss any of the above programs.
*Please Note: Receipts not submitted for insurance claims may be tax deductible under your medical expenses. Check with your accountant or professional who prepares your income tax.
New clients are welcome to please book a free, 30 min consultation.  If we both agree to proceed with a session, you will be sent an intake package, and can book your first appointment. Both the consultations and sessions can be booked using the booking calendar.
Appointments are offered in 1 hour and 1 hour 30min slots. If there are no times that match your availability, please contact us, as we may be able to accommodate. 
We also require 24 hours notice to cancel or reschedule an appointment, or the client will be charged 50%.
Our Counseling Practicioners
Practitioners provide services from an Indigenous worldview. This includes resources, storytelling, and support. Such approaches may include the medicine wheel, connecting with nature, and community resources.
We are respecting space for clients to be in their truth, to walk in their debwewin (truth). Our truth is connected to all parts of us: physically, mentally, emotionally, and spiritually.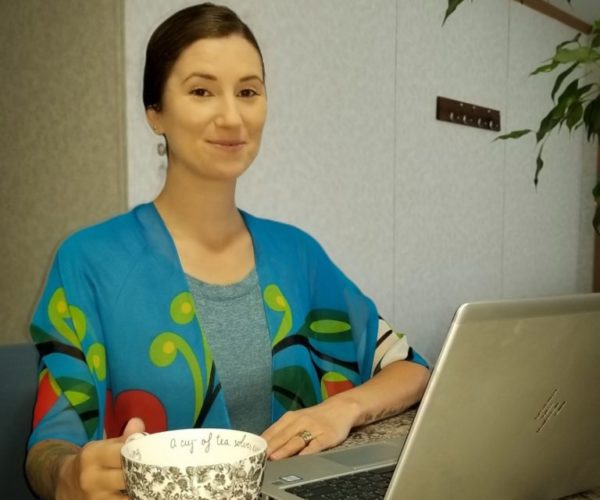 Roberta's Qualifications
Bachelors of Social Work, RSW
• Mental Health First Aid
• FASD Key Worker Certificate
• Nonviolent Crisis Intervention Certificate
• Aboriginal Coaching Manual Certificate
• The Foundations of Happiness at Work Certificate
• Compassionate Inquiry approach to Counseling with Gabor Mate
• SafeTALK Facilitator

Roberta has worked in the Indigenous community for 20 years. And has taken many courses and programs to continue to be trained well to provide services to the people. Of all the certificates she has received, her favourite is one she received when she was 12 years old from her best friend for being the best counselor.  All of Roberta's life experiences and training has been a path towards supporting our communities to create this healing space.
Danielle's Qualifications
Danielle has completed her Summer Internship with Ninoshenh Counseling. The free sessions with the internship have completed as well .
Masters of Clinical Social Work, RSW.
• Mental Health First Aid
• SafeTALK Facilitator Training
• Crisis Intervention and Suicide Prevention Training
• Coping Using Mindfulness
• Creating Inclusive Spaces
Continuous learning is important to Danielle, and she actively seeks opportunities to expand her knowledge. 
Danielle is honoured to walk alongside and witness clients in their life journeys and healing processes. She deeply values and cherishes the trust placed in her as a counsellor.
Maarsii, thank you
Looking for support?
Do you have additional questions about our counseling services and community of support?